The world's leading biannual conference on near-infrared spectroscopy was held for the first time this year in Austria, in the beautiful town of Innsbruck, with the motto 'Good Vibrations, Smooth Contours!' symbolizing the location and the commitment to embodying the spirit of science, fostering a stimulating environment, and nurturing personal connections.

The conference lasted from August 20 to 24 and was attended by 380 participants from more than 30 countries. The organizing committee, led by conference chairperson Prof. Dr. Cristian W. Huck from the University of Innsbruck, prepared an incredibly rich program that included three award ceremonies and award lectures, five plenary sessions, 14 keynote lectures, almost 80 oral presentations, as well as 26 flash talks and 160 posters.
On the first day of the conference, Monday, August 21st, as a part of the Water, Soil, and Environment session chaired by Prof. Zoltan Kovacs from Hungary, there were five lectures on aquaphotomics topics. The keynote lecture titled "NIRS-Aquaphotomics: A New Integrative Science and Technology Platform" was presented by Prof. Dr. Roumiana Tsenkova, the founder of aquaphotomics, from the University of Kobe, Japan.
In this fascinating talk, she presented some new concepts that have recently emerged from aquaphotomics research, such as the idea that water can be considered a sensor, laser and a hologram. Prof. Tsenkova also introduced a novel Japanese name for aquaphotomics, "Mikoudo". "Mi" originates from the Japanese word "mizu", representing water, "Kou" means "light," and finally, "do" translates to "path" or "way" akin to well-known disciplines like Aikido, Sado (Japanese tea ceremony) and Shodo (Japanese calligraphy), which all share the "do" element in their names. Mikoudo (aquaphotomics), therefore, is a path to a greater understanding and insight into water through its interaction with light.
The next speaker was Assoc. Prof. Dr. Jelena Muncan, also from the Aquaphotomics Research Field in Kobe, who presented on "Recent Developments in Aquaphotomics: Insights into Water Structure and Functionality."

She discussed significant progress in identifying new Water Matrix Coordinates (WAMACs) in the first overtone of water. She showed the currently identified 19 WAMACs and molecular structures that absorb light within those frequency ranges. Additionally, she demonstrated how these structures are interconnected with macro-scale properties and phenomena such as hardness, texture, preservation, damage, self-organization, and others, also illustrating water as a multiphasic system.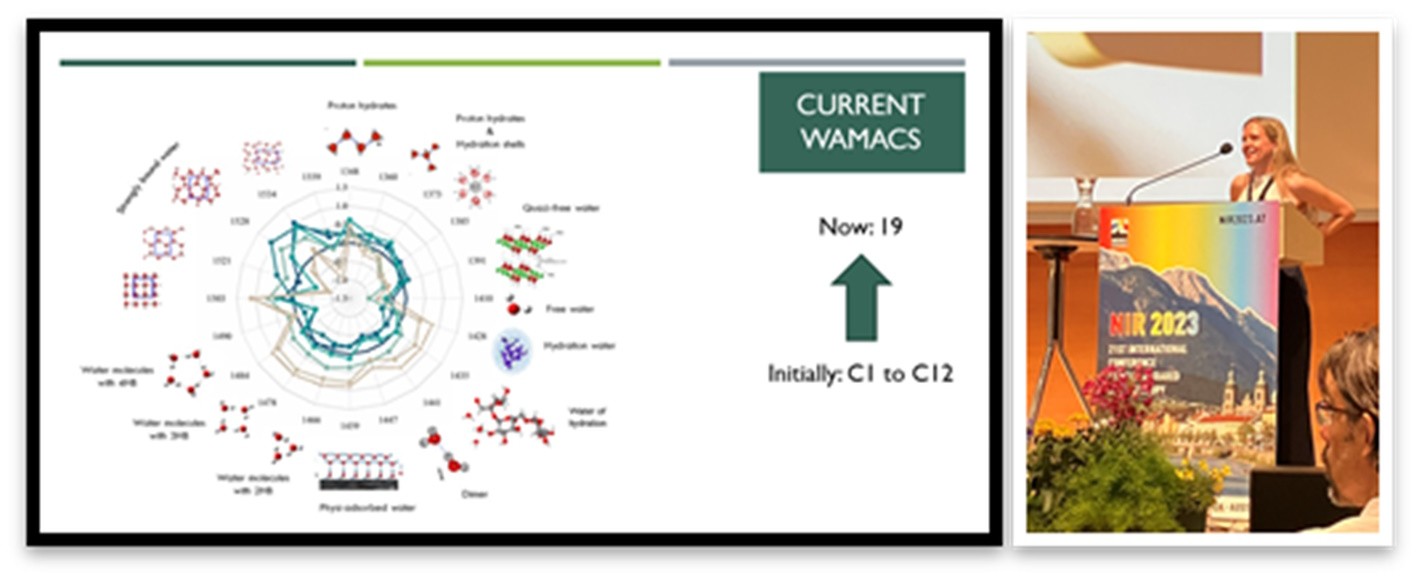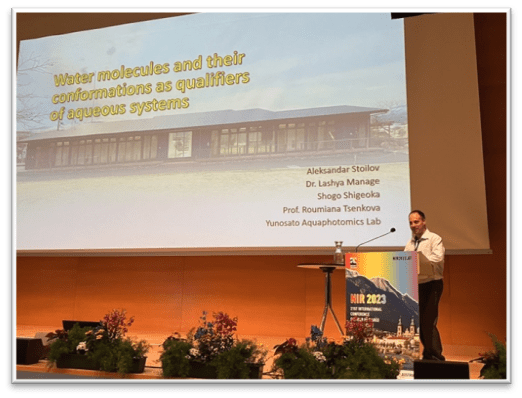 Alexander Stoilov, a senior researcher at the first industrial aquaphotomics laboratory – Yunosato Aquaphotomics Lab, in Hashimoto city, Japan, presented different applications of aquaphotomics in various projects at Yunosato. These applications include water quality control, food quality and development of new food products, quality control of cosmetic products, and a particular focus on the most novel application: soil analysis. An interesting aspect of their findings is that wetting the soil helped classify different soil types. The objective of this ongoing research is to employ aquaphotomics to identify the ideal soil-crop matches, ensuring optimal conditions for organic growth.
Prof. Dr. Myriam Catala Rodriguez, from the Spain's research group Symbiogene at Universidad Rey Juan Carlos, stands as one of the latest additions to the field of aquaphotomics, specializing in the study of anhydrobiosis.

Her lecture, titled "Metabolomic Analysis of the Global Molecular Fingerprint and Aquaphotomic Analysis of the Dehydration-Rehydration Cycle of the Symbiotic Aeroterrestrial Microalga Asterochloris erici," unveiled captivating findings concerning the restructuring of water's molecular composition in response to dehydration. This research underscores the pivotal role water plays in the state of anhydrobiosis, supported by the results of metabolomic analysis. This "omics" study beautifully reaffirms the earlier discoveries made by Prof. Tsenkova's group and showed consistency regarding the significance of the same water species in the survival of resurrection plants, while also shedding light on the same phenomena in microalgae for the very first time.
The session concluded with an exceptional lecture by Prof. Dr. Carrie K. Vance, from Mississippi State University in the USA. Prof. Vance delivered a presentation titled "Developing NIR-Aquaphotomics for Rapid Screening of Respiratory Disease in Livestock" unveiling the latest findings from her research group. This lecture marks their most recent advancement in a longstanding and consistent trajectory of aquaphotomics applications within the realm of veterinary medicine.
Her presentation not only exemplified the depth and robustness of aquaphotomics research but also showcased its immense potential for practical, real-world applications. It becomes evident that we may stand on the cusp of groundbreaking applications in the field of medicine, with aquaphotomics leading the way toward transformative advancements.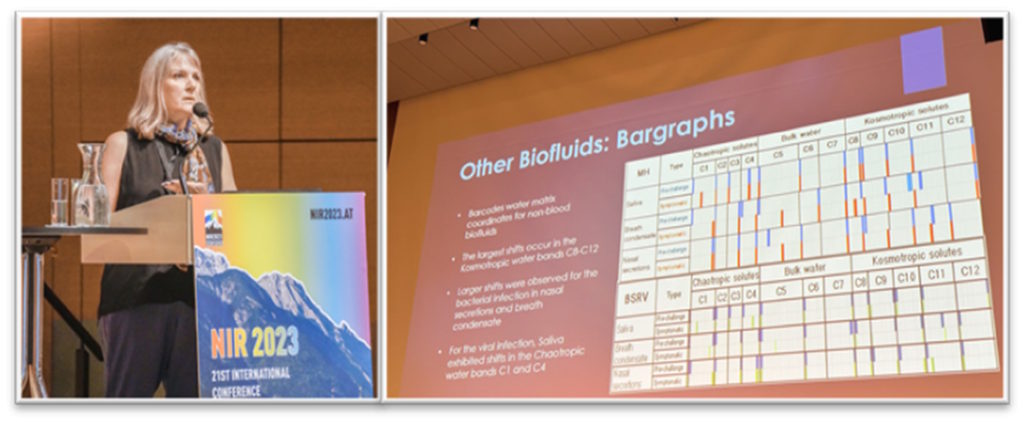 One of the distinguished keynote lectures presented at the Conference was also delivered by Prof. Dr. Zoltan Kovacs on August 22nd during the Agriculture, Dairy, and Food session, presided over by Prof. Dr. Tsenkova. Titled "Recent Advancements in Near Infrared Spectroscopy from Farm to Fork," Prof. Kovacs shared a wealth of research findings that encompass the entire spectrum of food production and quality control, as indicated by the lecture's title.
Prof. Kovacs's research group places significant emphasis on aquaphotomics, a field he introduced to Europe after completing his post-doctoral studies under the guidance of Prof. Tsenkova in Kobe, Japan. Leveraging the exceptional opportunities provided by the Stipendium Hungaricum program in Hungary for international students, Prof. Kovacs has assembled a formidable team of PhD students from various corners of the world. This diverse team has since evolved into one of the leading forces in the realms of near infrared spectroscopy and aquaphotomics.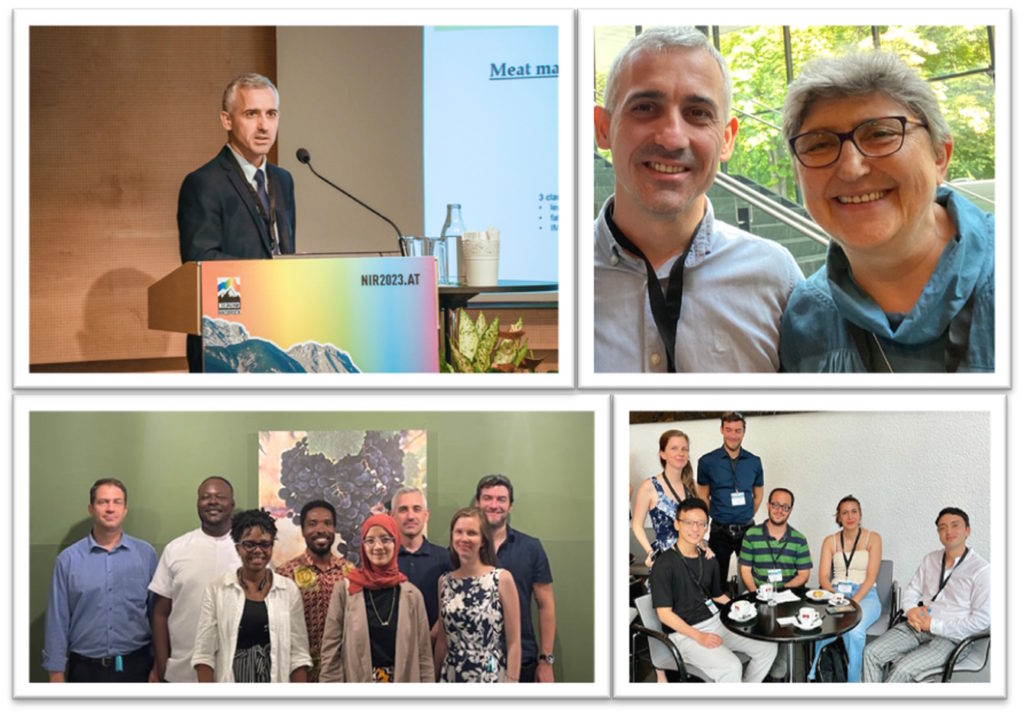 The conference also featured around ten posters presenting diverse aquaphotomics research topics. These ranged from diagnostic applications for hepatitis C in human patients (Spain), measuring irradiation dose exposure in mice (Japan), detecting diseases in plants using hyperspectral imaging and aquaphotomics (a pioneering development emerging from Norway for the first time), monitoring the dehydration process of vegetables (Italy), pinpointing the effects of argon packaging and storage on lettuce (Hungary), observing milk coagulation processes (Italy), to exploring novel and exotic subjects such as understanding the mechanisms behind cold atmospheric plasma (China), processing in traditional Chinese medicine (China) , and properties of deep-sea water at various depths (Japan).
The conference offered a wonderful opportunity to connect with new acquaintances, strengthen existing relationships, and finally meet, in person, some of the colleagues who had joined our work during the challenging times of the COVID-19 pandemic—individuals who had become online friends and collaborators, yet we had never met face-to-face. It also provided a platform to absorb the latest trends and research directions in near-infrared spectroscopy, offering insights into where the future of this field may lead.
This conference indeed became a hub of positive energy and harmonious connections (just like the motto promised), reflecting the cherished moments and enduring bonds created during our time together against the stunning backdrop of Innsbruck and the delight of savoring exquisite Austrian cuisine.
As we look ahead, one thing is certain—the next time we will all meet in Rome, Italy, from 8th to 12th of June in 2025, where NIR2025 will take place, guided by the theme "Light through Centuries". We are happy to announce that the Aquaphotomics session will be an integral part of this event. We look forward to seeing you in Rome!